It's an undeniable thing that, running a hotel of limited service or full-service is no easy feat. As a hotelier, you and your team may be in charge of creating number of reports every day to keep track of accounts and finances.
One glitch in a report may hamper your entire process cycle, so you can't afford it to happen.
To ensure smooth operations and make your life easier, you should run accurate reports related to your Profit & Loss, Income, Sales, Budget, Balance Sheet, Payables and Receivables, etc.
Reports to focus for a 'Big Picture'
We are listing out the top nine imperative reports being offered by Nimble Property that becomes crucial if you are seriously focusing a big picture and excel in hospitality industry.
Beside just you, these reports will ease the work, save enormous efforts and time of your managers, co-owners, accountants and departmental heads.
You might be thinking, "That sounds great! But, do they really work?"
Answer is 'Yes', just continue reading and dive deep into 'em!
Profit & Loss
Profit and Loss Report, also called as P&L report is crafted really well in Nimble Property.
It displays your single or multiple properties' total Income and Expenses incurred during a selected specific period of time.
Based on it, you can come with cost cutting or adjustment strategies for better outcome.
Also, you'll get a better understanding of your property's financial position!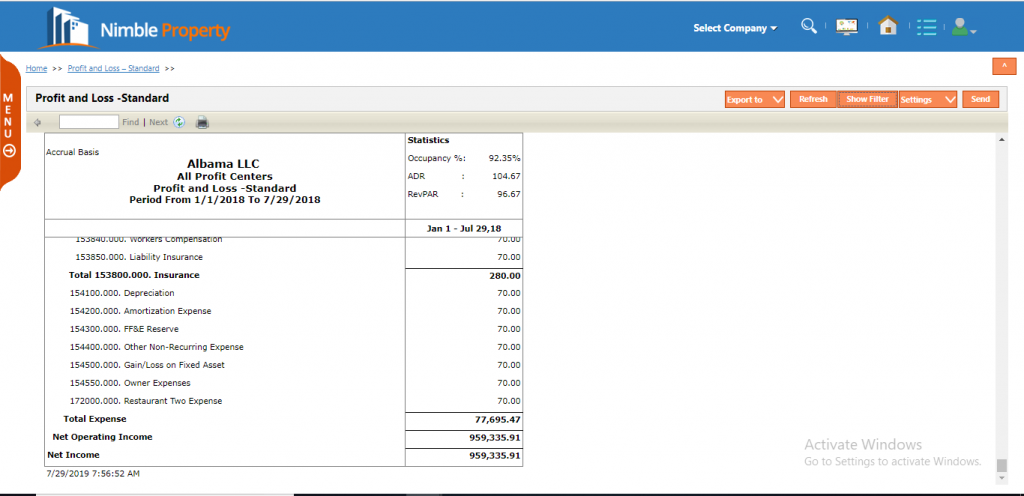 Balance Sheet
Considering 'Balance Sheet' as an important financial statement, Nimble Property lets you access it for a snapshot of your financial position.
Based on the specific time intervals, the balance sheet navigation displays your hotel's assets, liabilities and equity.
Seamlessly, you can generate reports day wise, week wise, month wise or even year wise, everything on a single dashboard.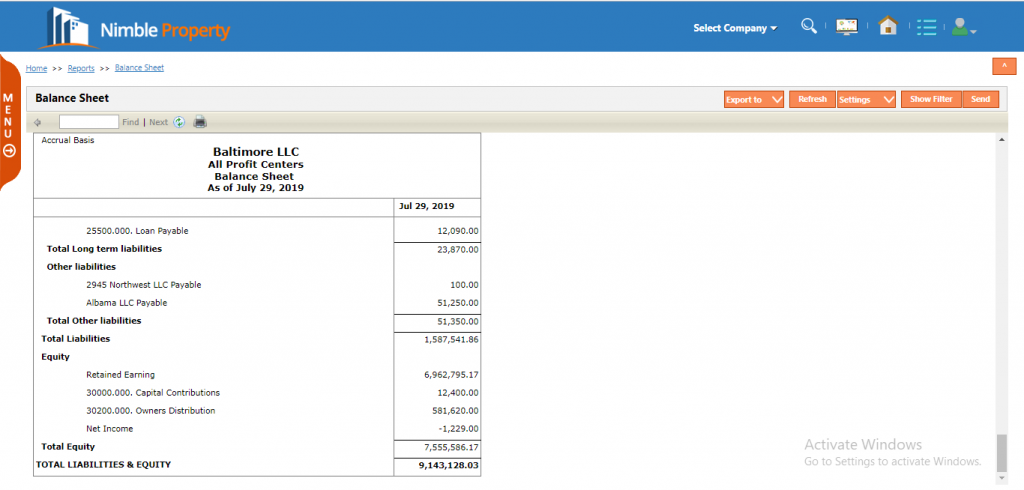 General Ledger
Labelled 'General Ledger' as one of the core feature within the Back-office Accounting segment, Nimble Property lets you access this report with ease.
It basically represents the record-keeping for your hotel's financial data with credit and debit account records validated by a trial balance.
The general ledger report in Nimble Property holds your account information that is required to prepare hotel's financial reports.
For centuries, the General Ledgers were being kept on paper, but with Nimble it's automated and made readily available for you!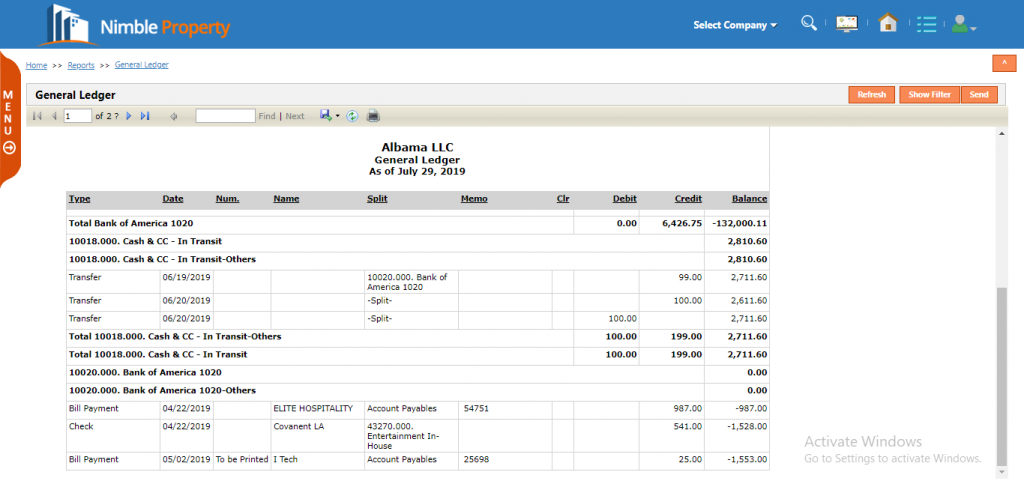 Trial Balance
Be it for your single property or multiple properties, you can create 'Trial Balance' report with ease in Nimble.
It displays your chart of accounts and balances of the selected corporation for a chosen time period.

The Trial Balance report allows you to identify discrepancies in your hotel account totals, so you can act accordingly.
You can trust on Nimble Property and get numbers accurately!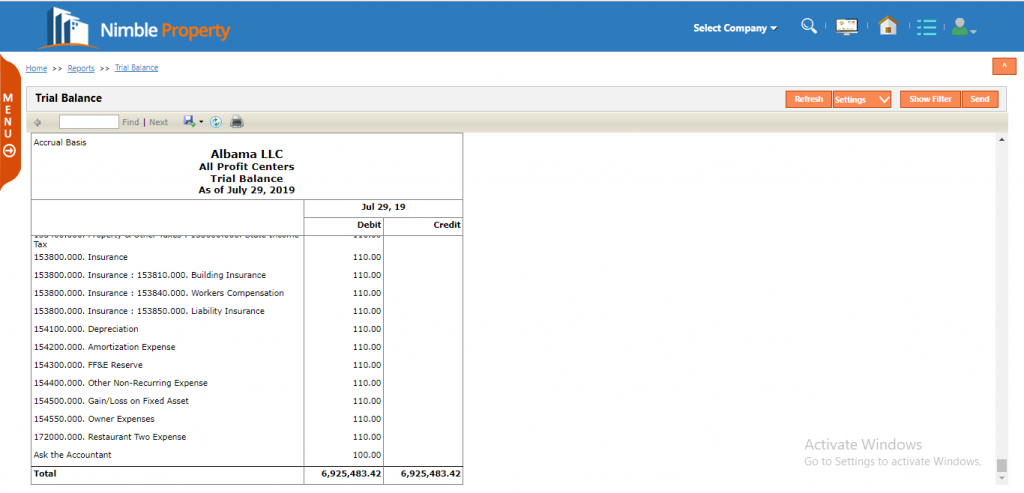 Intercompany
Nimble Property allows you to generate combine reports and perform comparison analysis of all your hotels on a single screen.
Effortlessly, you can manage Intercompany In & Out by generating reports including Profit & Loss, Balance Sheet, Trail Balance, ICFA Ledger and combined Income Statement.
We made it easy for you manage your Hotel Chain at your fingertips!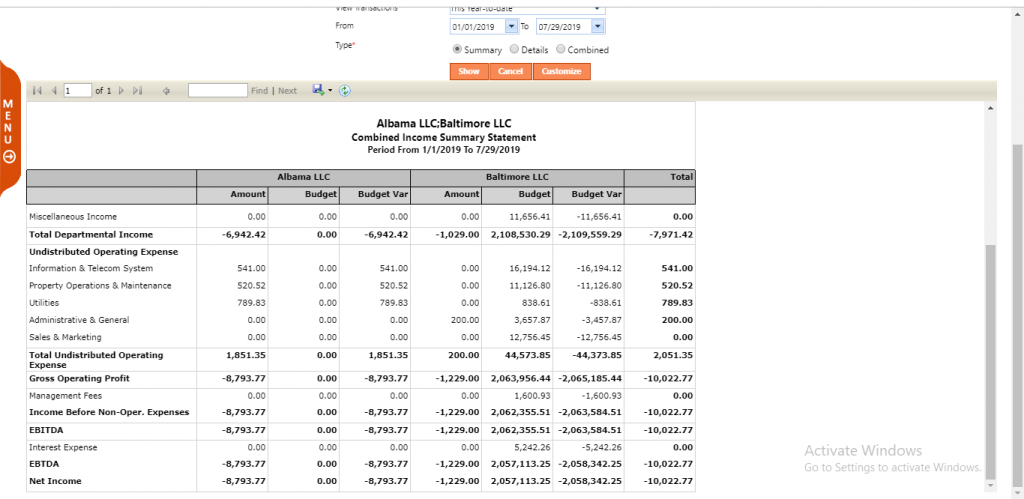 Daily Sales Report
Generate Daily Sales report in few simple steps with Nimble Property to track your Daily Sales, including Occupancy, ADR, RevPar, F & B Revenue and other miscellaneous earnings.
Make the best use of this Daily Sales report and prepare the budget for the following year with ease.
Within no time, get a comparison with Period to Date (PTD), PTD Budget and Year to Date (YTD), YTD Budget.
Nimble enables PMS Integration with Approval System to automate your daily sales process.
So far, Nimble has integrated with top-notch PMS systems – Opera, OnQ, FOSSE, Lightspeed, Skytouch, Anand systems, Visual Matrix, SynXis, Choice Advantage and Hotel Key.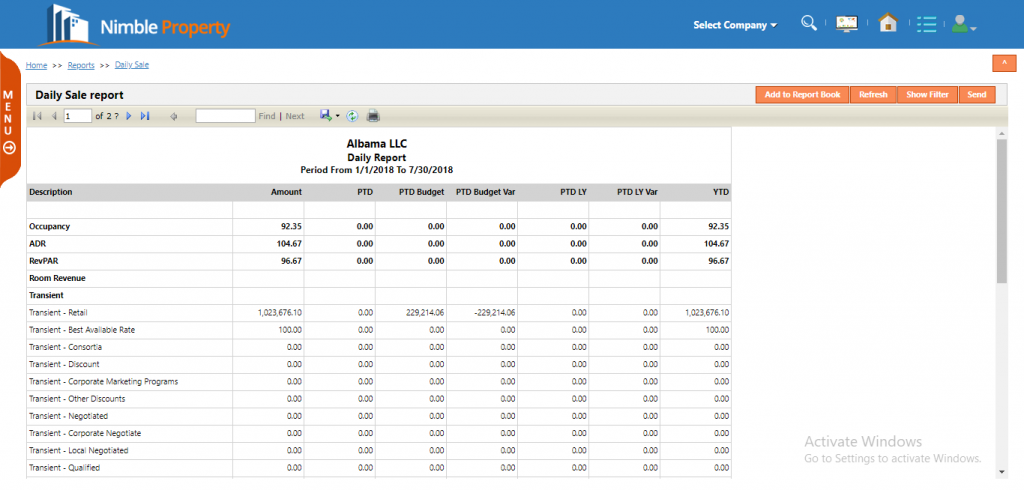 7. Reconciliation
Reports related to Reconciliation in Nimble Property helps you to keep your balances in sync.
At your convenience, generate the reports and get information about cleared and un-cleared transaction summary for selected timeframe.
Compare your monthly transactions of properties with bank statements to avoid surprises hitting your account.
Nimble Property integrates with all the financial institutions in America!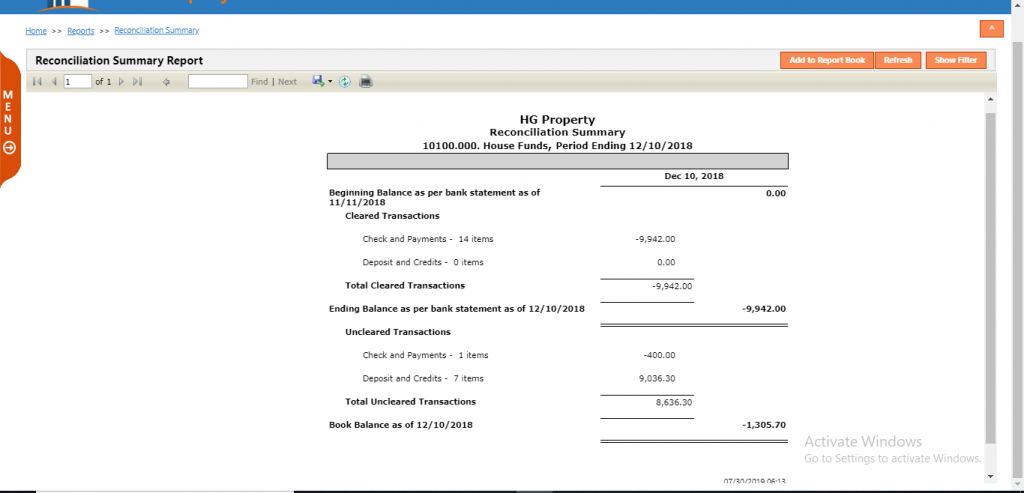 8. STR & GSS
Nimble Property lets you import your STR data and generate a consolidated report, that benchmarks your hotel's performance against your competitors.
As per the Corporation customization, you can know the pulse of your competition on a weekly, daily and monthly basis.
Outperform your Competition. Get your STR report today!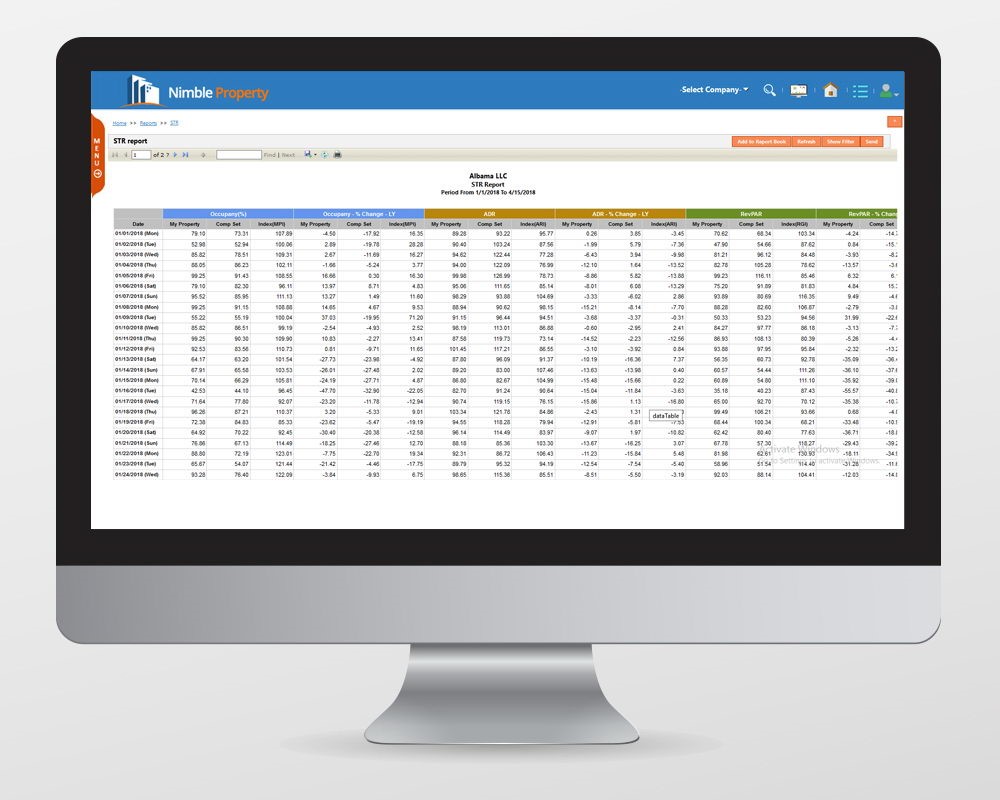 Complete the GSS configuration and import the GSS Survey data (Comments & Score Files) into Nimble Property, just within few clicks.
Be it an individual hotel or chain of hotels, the GSS configuration can be done and reports can be generated to track your guests' comments, feedback.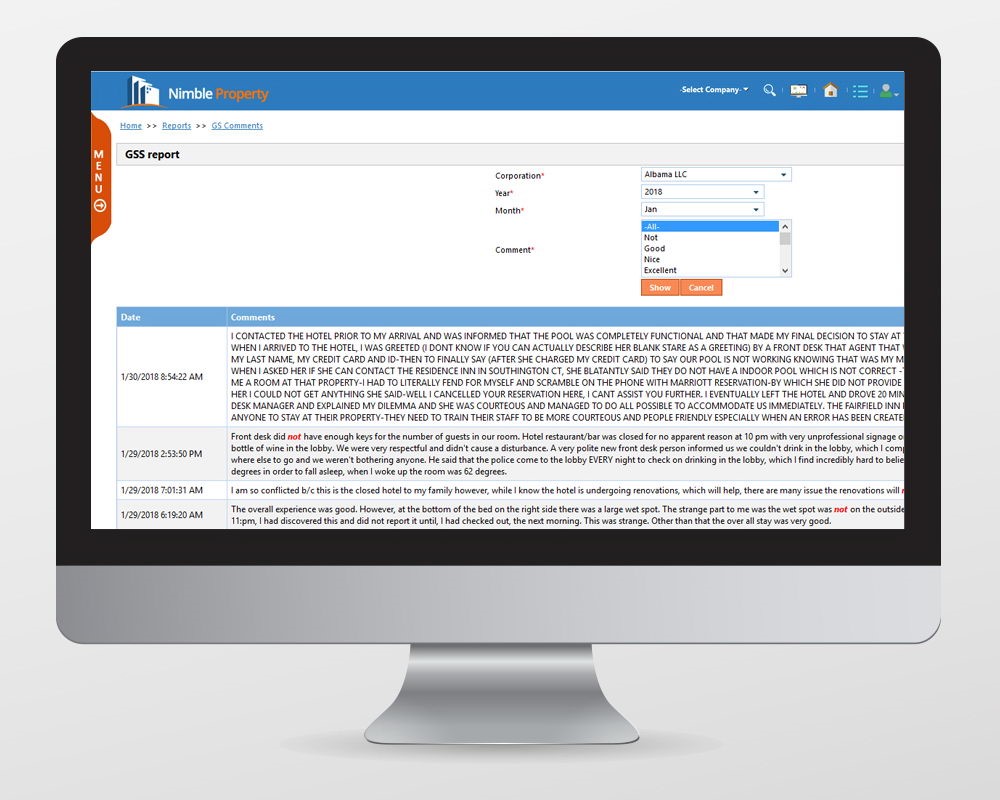 9. Vendors
To serve the purpose of helping you maintain good relationship with your vendors, the Vendor Reports are crafted here in Nimble Property.
Starting from Accounts Payables reports to Bill Summary reports, you can drill down to every detail corporation-wise and vendor-wise.
Customization and Navigation in Vendor Reports is excellent!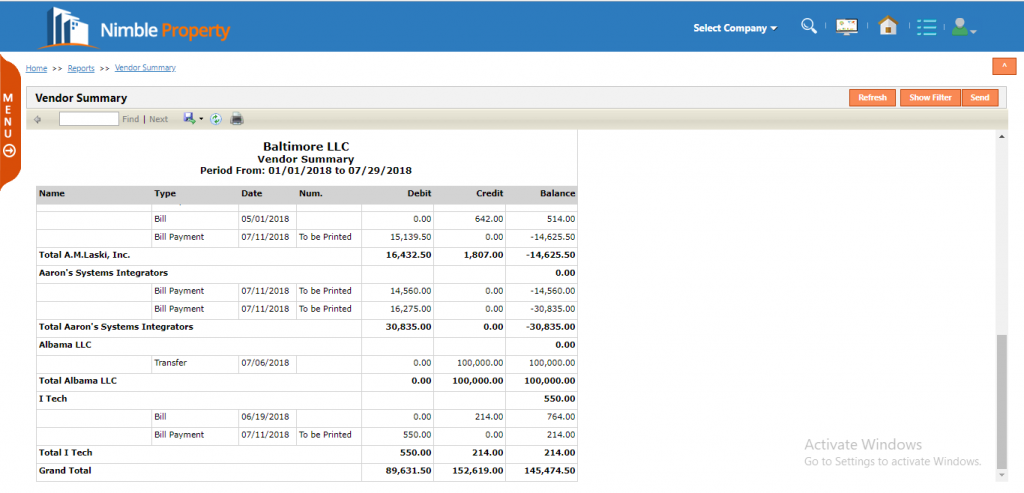 That's not all, there are almost 60+ Standardized Reports that will add weightage in driving your financial success. Hotel-specific reports in Nimble Property helps you make better decisions & control your business.
Nimble offers a structured reporting program categorizing each report as per their functionality.
Understanding the value of reports, Nimble offers you a wide range of essential reports which allows you to view even the smallest details of financial happenings in your property.
With our accurate reporting structure you can keep complete track of your business operations with an option to download the reports in multiple formats and customize the reports to your likeness.
Want to more about our Hotel Accounting Software and reports that help you operate your hotels smoothly? Schedule a Quick Demo!