This is a widely asked and quite familiar question anyone may ask when the light is on the Hospitality industry.
If we muse over on accounting in history, the existence has been all around as much as money itself. It dates back to the ancient civilization – Maintaining the records of finances.
However, in this modern 21st Century 'Accounting' took a transformation hit, leveraging the technology and intelligence.
It is constantly adapting and catering according to the specific and diverse needs of its users.
In this blog, we would love to elaborate on all that hotel accounting entails and define its importance.
Hotel Accounting & Its Importance
Regardless of the business size, Accounting in the perspective of Hotel Industry is all about recording and retrieving in & out cash-flow.
Hotel Accounting is considered as the boon for better decision making that brings in good fortune to hoteliers if handled efficiently.
Beyond that it involves summarizing, reporting and analyzing the hotel's financial position for a particular period, further helps in budgeting, forecasting and future cost planning.
In general, a Certified Public Accountant (CPA), accountant or a bookkeeper takes care of handling the accounting activities and generates the financial statements such as Balance Sheet, Profit & Loss (Income) and Cash Flow, etc.
And, these are the most crucial components that communicate the financial information of an individual hotel or group of hotels.
Staying accountable doesn't end here! Hotel Accounting also involves in keeping the bank account in sync, streamlining the payables & receivables, analyzing
department- wise expenses, generating general ledger, tracking inventory supplies and 1099 payment reports.
In terms of Operations front, the accounting plays a key role in Tracking Bills, Recurring Dues, Sales & Journals Approval, while keeping a tab on Occupancy %, Rooms Sold, Average Daily Rate (ADR), RevPar, Room Revenue and Guest Satisfaction Surveys, Competition Analysis through STR, Variance Analysis, Labor Management, Operating Budgets and Financial Benchmarking.
On the other side, the Time & Payroll Management, Daily Activity Tracking, Performance Monitoring, Daily Sales, Profitability Forecast fall in the lineup of Accounting in Hotel Industry.
Hotel Accounting Software Brings 'EFFICIENCY'
The paradigm shift of technology is shaping the hotel business and powering up the operational and financial performance.
With the means of Hotel Accounting Software, the accounting personnel and management are able to track their day-to-day finances, as well as perform the future prediction of revenue and expenses while handling the operations efficiently.
As we shed more light on it, we witness increased automation and intelligence in Hotel Accounting Services out there.
Be it in Daily Sales or Bills Entry, Reconciling the Bank Books or Transactions and Integrating PMS or Payroll Vendors – Automation presence is there.
The robust Hotel Accounting Software even leverage the Business Intelligence, in delivering the insights on key performance indicators (KPIs). Turning the data into better visualization and utilization, while alerting on pending or overdue payments & receipts – Incorporates in its expertise!
Cost Savings
Hoteliers generate operational cost savings electing the right software for managing their hotel accounts and finances.
The labor costs, infrastructure and software maintenance charges will be eliminated and reduced by 80%.
Revenue Enhancement
Hotel owners be able to maximize their revenue by easily analyzing and optimizing their cashflow, while streamlining their budget and forecasting strategies.
Altogether amplifies the hotel portfolio's financial performance.
Increased Productivity
Freeing the administrative burden on managers and accountants will help them unleash their potential to the fullest.
Using an accounting solution in a hotel makes it possible, leaving some productive space that can be actually focused more on guest satisfaction and increasing the business portfolio.
Business Insights
Using an in-depth analysis of a hotel/hospitality accounting software will help the hoteliers better utilize their data and identify their industry's trends, operating expenses and costs, department-wise happening as insights.
Realtime glance on the Hotel Occupancy, ADR, RevPAR, revenue stats, profits, GSS and STR will help hoteliers make fact-based decisions that improve their business.
Data Accuracy
Everyone is exasperated with data entry duplication relying on traditional method of Hotel Accounting.
Using a Hotel Accounting Software or Bookkeeping Service will leave no room for errors, while improving the accuracy and quality of it.
Improved Operations
Managing everything in one place is always a better way, especially when a hotel owner is focused on improving his/her ROI.
All-In-One Hotel Accounting Solution can evade the jumps between various systems and unifies all the operations on a single platform by integrating the tools, data and related processes.
Improving the Hotel Business requires all these happenings, which altogether brings extra savings on time and efforts.
Important Financial Statements in Hotel Accounting
Financial statements are the records that convey the financial position and performance of the hotel, for a certain period of time.
It influences the owners in quantifying the current position and reflects in making the major business decisions to experience financial happiness.
Balance Sheet – The Statement of Hotel's Financial Position
The Balance Sheet is one of the important financial statements in a hotel and often times it's known as 'Statement or Snapshot of an entity's financial position'.
Hotel Balance Sheet comprises of three elements – Assets, Liabilities and Equity at a specific time.
Tracking the finances by diving deep into the balance sheets will freeze the possible potential issues across the hotel or hotel chain, before they actually turn into disasters.
Relying on the manual methods may not only be erroneous but also cause inaccuracy during monthly balance sheet preparation. Here, any best hotel accounting software that acquired standard reporting structure will help, cause zero or minimal errors.
It should let the user generate hotel balance sheets as per convenience on a medium of day-wise, weekly or monthly or even yearly.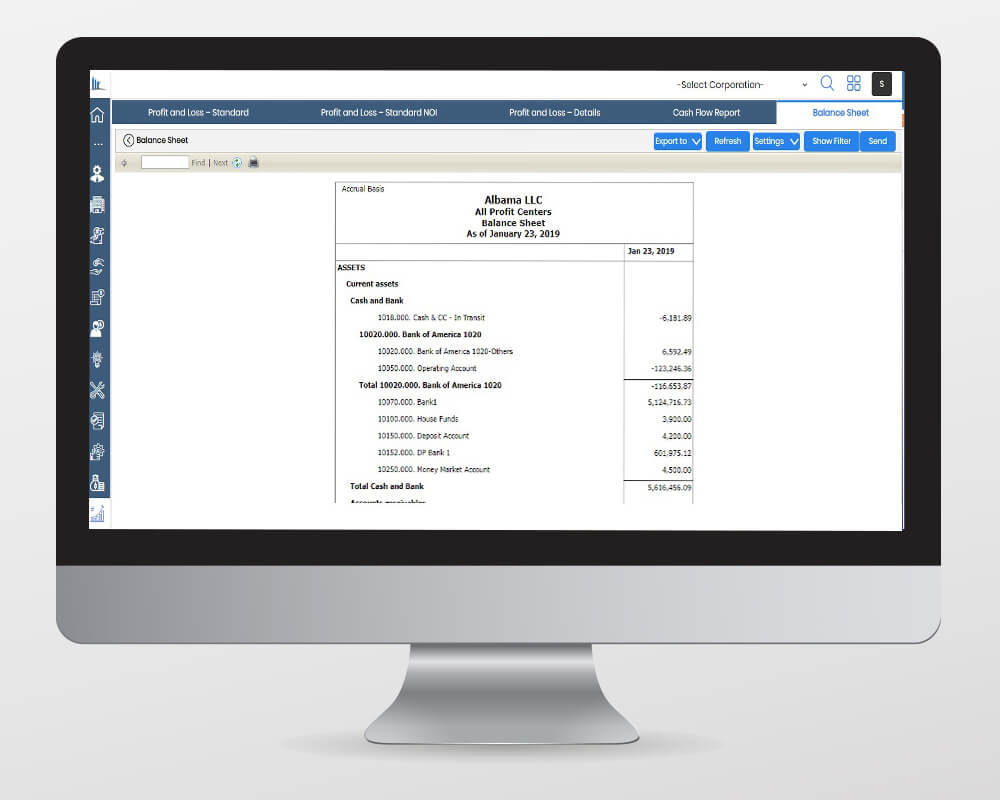 Here in the figure, the balance sheet's assets are reported under the classifications of current assets, investments, property and equipment and other assets.
Whereas, liabilities are classified as current liabilities and long-term liabilities.
Profit and Loss
Income Statement also called as Profit & Loss report discloses the hotel's financial performance over a specific period of time, in terms of net profits or loss.
It clearly shows the accounts list in the hotel or hotel chain and their balances, which actually summarizes the income and expenses.
The purpose of this financial statement is to help hotel business investors & creditors assess the past and future financial performance, unveiling the capability of generating and optimizing the cash flows.
A unified Hospitality Accounting System or Back Office Software will serve the purpose of creating the P & L report to display Corporation wise COGS (Cost of Goods Sold), Income, Expenses, and Net Profit.
Getting lost in spreadsheets will cause even more discrepancies and loosen the chances of cost control. Whereas, the hotel accounting services eliminate this situation, letting the accountants create and access the statement in seconds.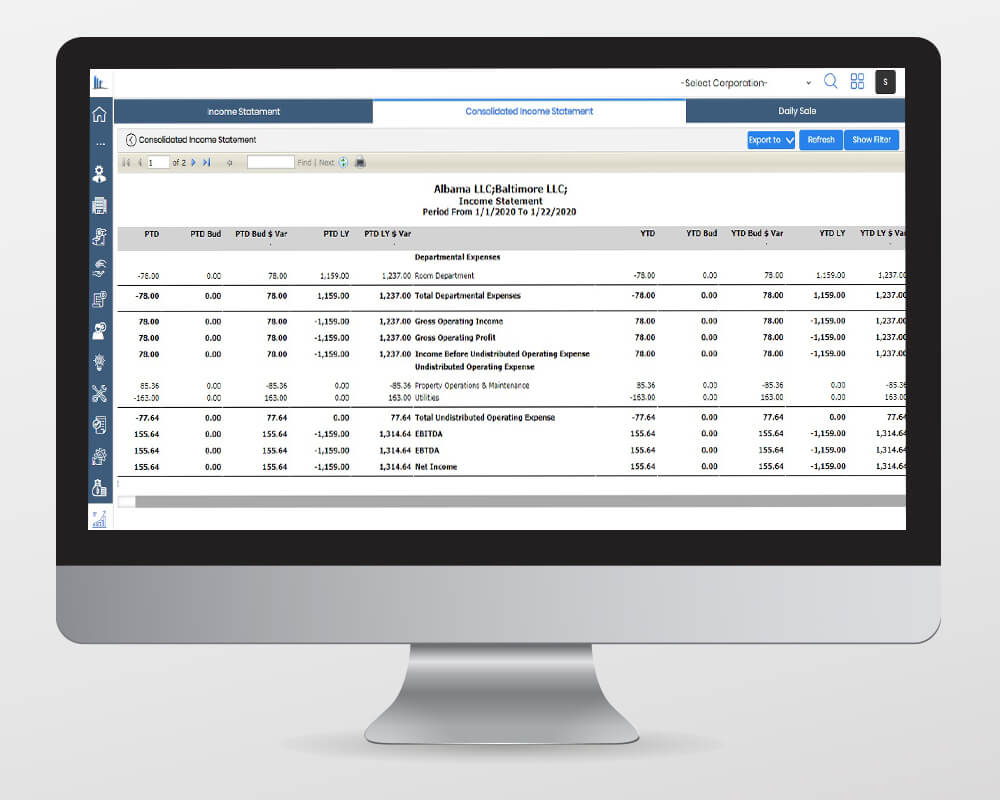 Cash Flow
It's a statement that presents the cashflow movement and bank balances across the hotel portfolio over a period of time.
Starting from the hotel's ongoing operations till the end of a given period, the cash coming in and going out is seen on Cash Flow statement. So, it's a must have thing for hoteliers!
A global study, about 94% chances for revenue leakage in Hotel Industry is just because of inconsistency in accessing and analyzing the Cash Flow cycle.
Better management of Payables and Receivables will conquer the cashflow problems.
Hospitality Accounting Software will be a lifesaver here, letting the user simplify the AR tracking and follow-up on aging invoices.
Most importantly, the vendor payments management becomes less complex through processing bills on time, leveraging the OCR scanning.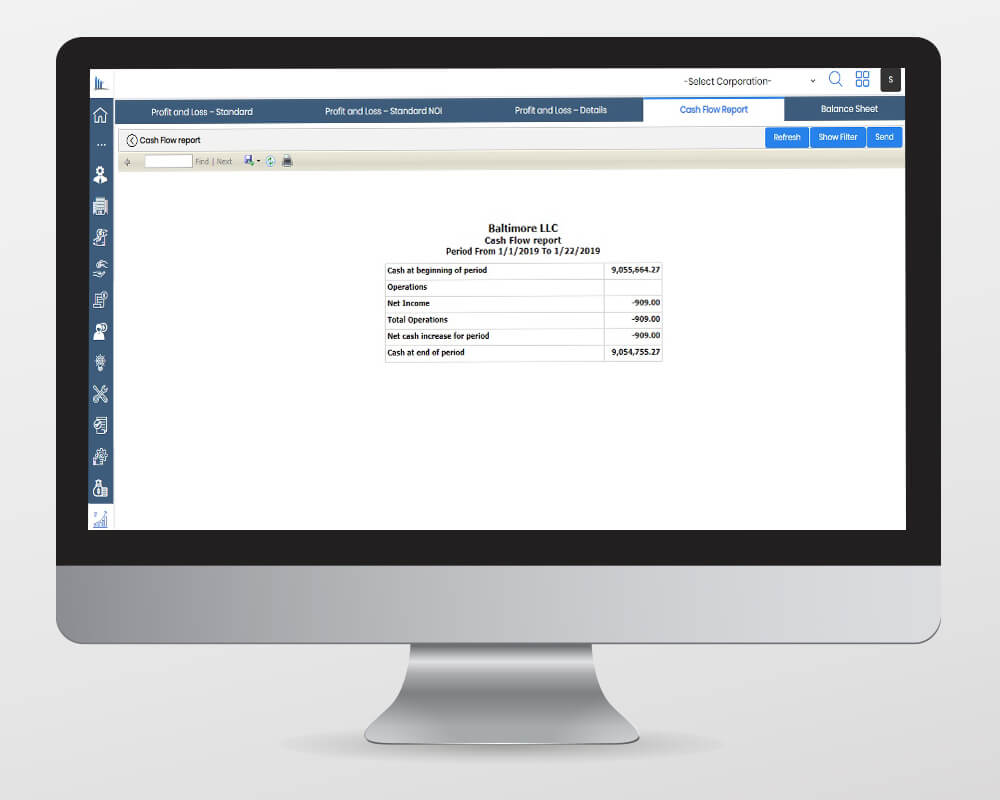 Conclusion
And, it's the fact not be contradicted that, there are many more accounting tasks to be streamlined in a hotel and finances to be monitored on a regular basis.
Along with the insights on KPIs and the business health are to be seen!
Now, this can be only possible by using the legacy hotel accounting or back office software but not relying on just spreadsheets.
Underlying the root causes of financial inconsistencies can be identified and prioritized.
That's how the vulnerable cause of hotel's downfall can be terminated for commendable results.
Understanding the accounting gaps for seamless hospitality management, Nimble Property has come up as a tailored solution to plug in the holes and gaps, while empowering hoteliers, accountants and managers.
Leveraging the next-generation technology and intelligence, the accounts are consolidated, reports are customized, manual entry complexities are solved and visibility into hotel business performance is seen crystal clear.
So far, it's been used by 200+ major brands across 800+ satisfied properties, to handle their accounting activities, boost their financial performance and streamline books.
Read the blog to know, why most of the hoteliers love using Nimble Property.
It's not just about Nimble, be it any software – It should let you prioritize and focus on what's most important to you for sustainable, higher profits.
Automation is the FUTURE of Hotel ACCOUNTING
Being an hotelier, if you are your accountants, managers and admin department spend much time in back office, all their efforts go in vain which can actually be utilized productive way.
There would be other core competencies in which hoteliers have to focus on and focus on extending the portfolio, while mitigating the potential risks and satisfying guests in all possible ways.
Outsourcing or partnering with Hospitality Accounting Services will be a permanent solution to efficiently handle all these duties, but all that one has to look for is a hotel specific accounting software and cost-effective one.
No doubt, in the hotel accounting providers range across the hospitality industry – Nimble Property is bespoke to be economic in pricing, easy-to-use, maintenance
free, quick & easy to setup, automated & integrated hassle-free solution with 80+ specialized industry standard reporting.
Managing a hotel chain is the big highlight! It's not an easy go to run a hotel chain as there would be intercompany transfers to be processed, combined financial statements to be drawn, budget & forecasting to be performed on the entire portfolio, profits to be analyzed and banking summary to be accessed.
For all this Nimble Property – Hotel Accounting Software is into the light!