In the present day hotel business is perplexing and in this consistently expanding competitiveness; Insightful reports like cash and credit card collection details report can shoulder as a significant boon in accomplishing the objectives.
These reports will help the hotel manager as well as the owner to crosscheck the hotel collections within the bank and take a complete control, week after week and month to month basis.
Do hotels require credit card information for possible odds and ends? Or then again perhaps they simply need to be ready for anything?
Today this blog will help you with painting the image on the most proficient method to minimize financial discrepancies and put a check on them.
Nimble Property helps you in creating a few sagacious reports on hotel business driving through the audit process to bank deposits. These experiences and practices assist you with checking on your hotel financial adequacy so you can monitor collections while making value.
Balance of All Accounts: Everything Being Equal
This cycle of streamlining all revenue community in hotel deposits and collection comparison helps in precisely monitoring.
Seamlessly information sharing of Cash and Card Collection Details Report helps owners to track, update, cross verify cash and credit card payment collections within the bank. It eases your work, which otherwise consumes enormous amount of efforts and time.
While doing likewise by pen and paper is a tedious and dull phase that prompts numerous mistakes, a Hotel Accounting Software effectively computerizes the entire series.
Take Nimble Property cloud-based Hotel Bookkeeping Software or Accounting Partner for instance that encourages you with a productive review so you can set up 100% precision of the sequence while severing down vigorously on manual intercession that may prompt mistakes.
Description of Role
Keep up an opportune, precise, and powerful correspondence with all the cash and card taking care of control chiefs in the workplace.
Update money and card dealing with functions for all installment receipt areas at the sub-division level in an ideal and exact way.
Hotel Inspection Procedure
Superiors can perform the procedure with only a couple of snaps.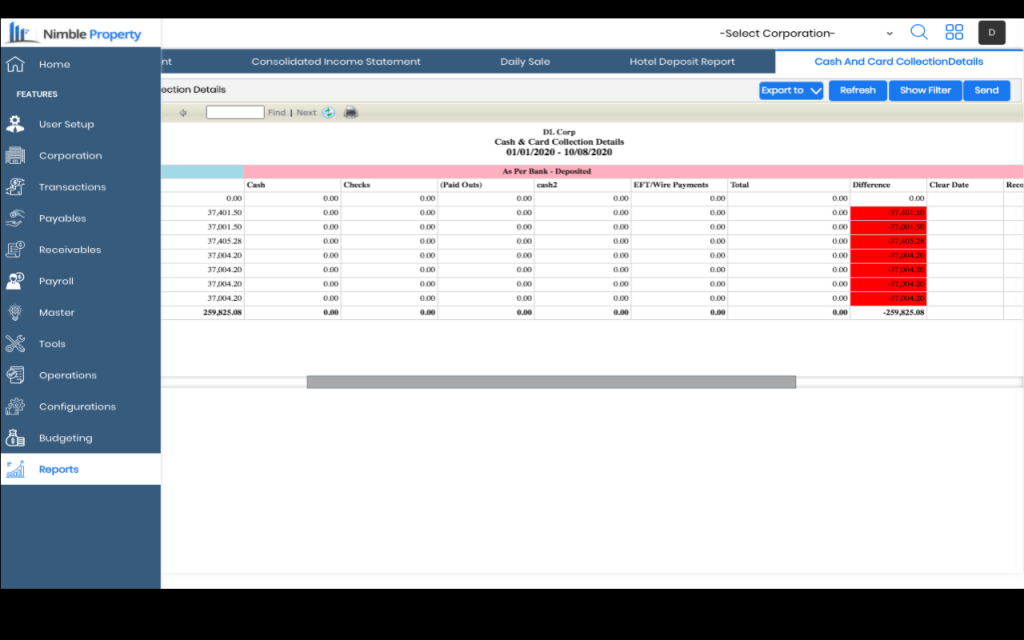 Snap-on the reports tab on the upper left corner and afterward navigate to the 'Income & Sales Section'. Click on Cash And Card Collection Details'. The framework will display the cycle in a matter of seconds.
All you have to do is just select your corporation, time frame, cleared/reconciled date and mark the card or cash type to proceed further.
If you have missed the procedure for the last business day, you simply need to give the details accordingly and the framework will display all the happenings.
The cash and card report catch the income refinements of each counter for the timeframe given. This shows each counter with subtleties of income got and deposited by the bank manager for the day in bank.
You can follow all the progressions ensued date wise, drill down to the total revenue, made through cash, checks, credit cards or EFT/Wire Payments in the bank.
Conclusion
There are numerous reports your hotel needs to run consistently to work easily. The huge fish are making a move and the banks are shaking. At this moment, you get the opportunity for your immediate deals to be a stride ahead, until further notice.
Nimble Property helps properties of all sizes effectively make these reports. Dealing with a hotel carries plenty of moving amounts, so having the accurate tools to produce exact reports is elementary.